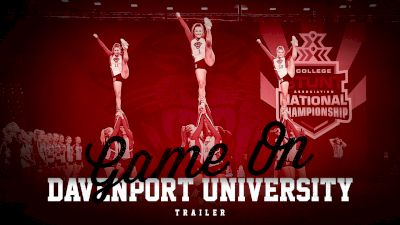 Game On: Davenport University (Trailer)
Nov 6, 2019
Davenport University is a powerhouse when it comes to STUNT the Sport, and they're back in 2019 to fight for their fifth national title! Head coach Celia Allen-Hames has high expectations for the team, and they'll stop at nothing until they've reached the top.
The Panthers have qualified for the College STUNT National Championship every year since their inaugural season in 2014-2015. The pressure is on as the team only has a few more games standing between them and their fifth national title! Will they come out on top of their final match up, or will they crumble?
Follow DU through the peak of their season at the 2019 College STUNT National Championship in the Varsity TV documentary, Game On: Davenport University!