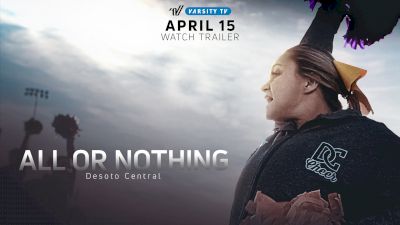 All Or Nothing: Desoto Central (Trailer)
Apr 15, 2020
Desoto Central High School is the two-time defending national champions in the Super Varsity Game Day division at the UCA National High School Cheerleading Championship. They're back and ready to give it their all!
The team didn't perform their best at the 2019 UCA Dixie Championship regional competition earlier on in the season, and they're determined to not fall short in their own game again.
The team is familiar with the feeling of winning after winning the Super Varsity Game Day division in both 2018 and 2019. No one has ever received back-to-back-to-back titles in the prestigious division, and Desoto Central is going for the three-peat!
Tune in to the Varsity TV documentary All Or Nothing: Desoto Central, premiering Wednesday, April 22nd!
More All Or Nothing: Desoto Central