With a history of excellence, the Oklahoma State University cheerleading program has been raising the bar in the cheerleading industry for over 30 years.
Head cheer coach and OSU alum Lindsay Bracken has been leading the spirit program since the 2012-13 season. OSU began their program with a
Large Coed
team and later added their
Small Coed
squad in 2006.
The Cowboys competed in the all girl division throughout the late 1980s and '90s but routinely compete in the
Large
and
Small Coed
divisions at
NCA College Nationals in Daytona Beach, Florida
.
OSU also competes in
STUNT
and has won the past four Division1 National Championships.
Oklahoma State University's Titles
All girl -- 1988, 1990, 1995, 1996
Large Coed -- 1988, 1991, 2010, 2012, 2013, 2014, 2015
Small Coed -- 2007, 2012
This season the
Large Coed
is made up of 17 males and 15 females.
"
Large Coed
has a ton of raw talent and eagerness this year," explained Bracken. "We are looking to build on the tradition of excellence we have developed and once again try to have elite skills done to a high level of perfection and continue to help set the bar for the industry."
Britni Love, Hugh Burrow, Taylor Montgomery, and Alex Segovia are the captains for
OSU Large Coed
.
The
Small Coed
squad has 38 total athletes -- three males and 35 females.
"Small coed has amazing talent among our first-years and we are looking to develop that and stay competitive in a very close
Small Coed D1A
division at
NCA College Nationals
," Bracken said.
Fourth-year Jasmine Owens is the captain for
OSU Small Coed
.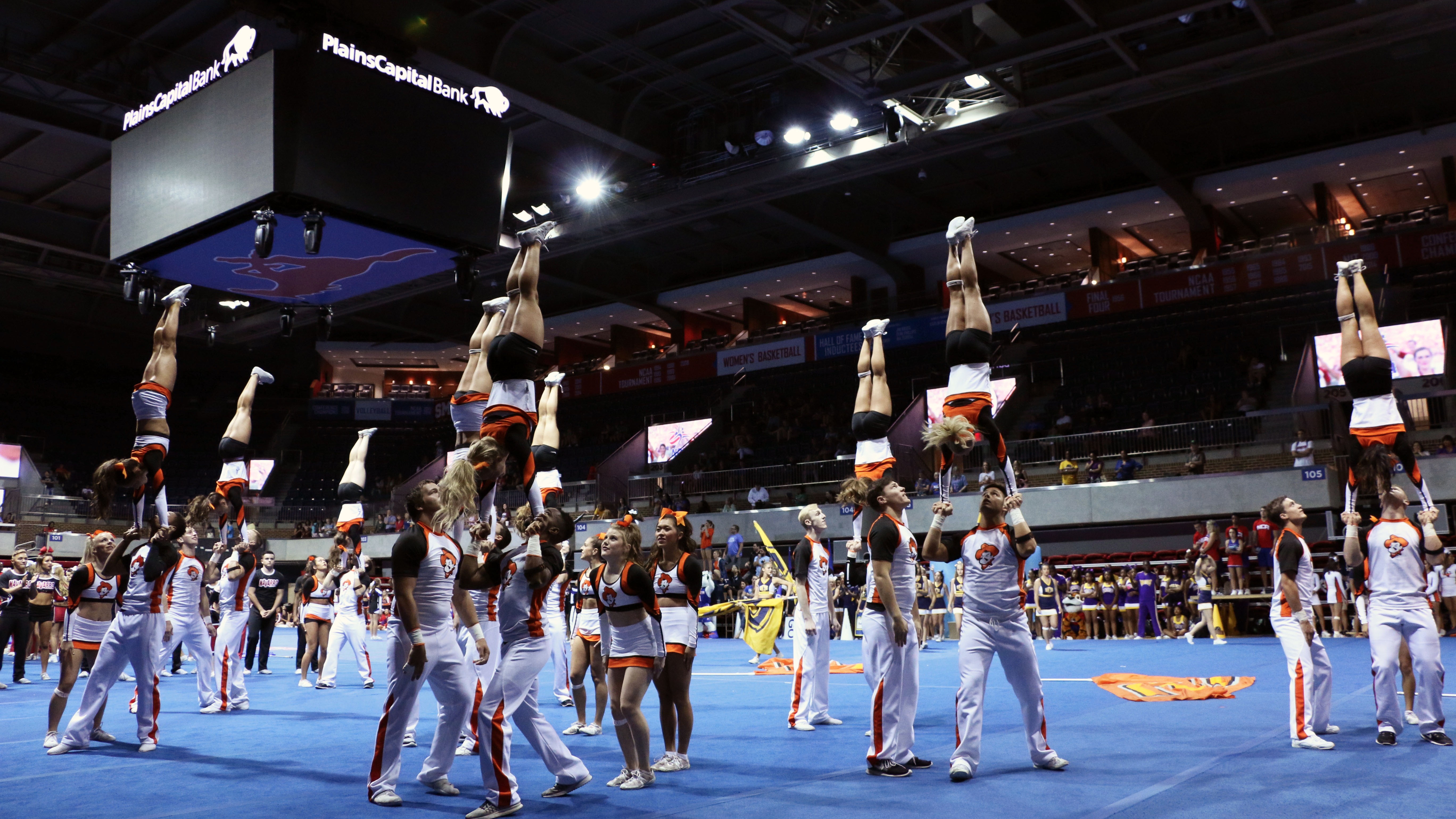 OSU Large Coed performs hand-in-hands for the final day of NCA Camp
This season, the OSU cheerleading program is made up of athletes from all over the country. On
Large Coed
, the squad has athletes from Oregon, North Carolina, Arkansas, Illinois, Kansas, California, New Mexico, Maryland, Missouri, Texas, and Oklahoma.
Small Coed
is comprised of athletes from Wisconsin, Michigan, Massachusetts, California, Pennsylvania, Arizona, Tennessee, Illinois, Arkansas, Texas, and Oklahoma.
Bracken is looking forward to working with her young squads. Both teams we have a large amount of first year student athletes, 12 on Large and 20
Small Coed
. No matter the age, OSU's competition goals always stay the same: to hit their routines during both prelims and finals.
"
NCA College Spirit Camp at SMU
was a great experience once again for
Large Coed
," explained Bracken. "In addition to skill development, we really focused on team-bonding at camp. Both were accomplished this year. We had several rookies trying new stunts and pyramids and they showed progress and improvement in those areas."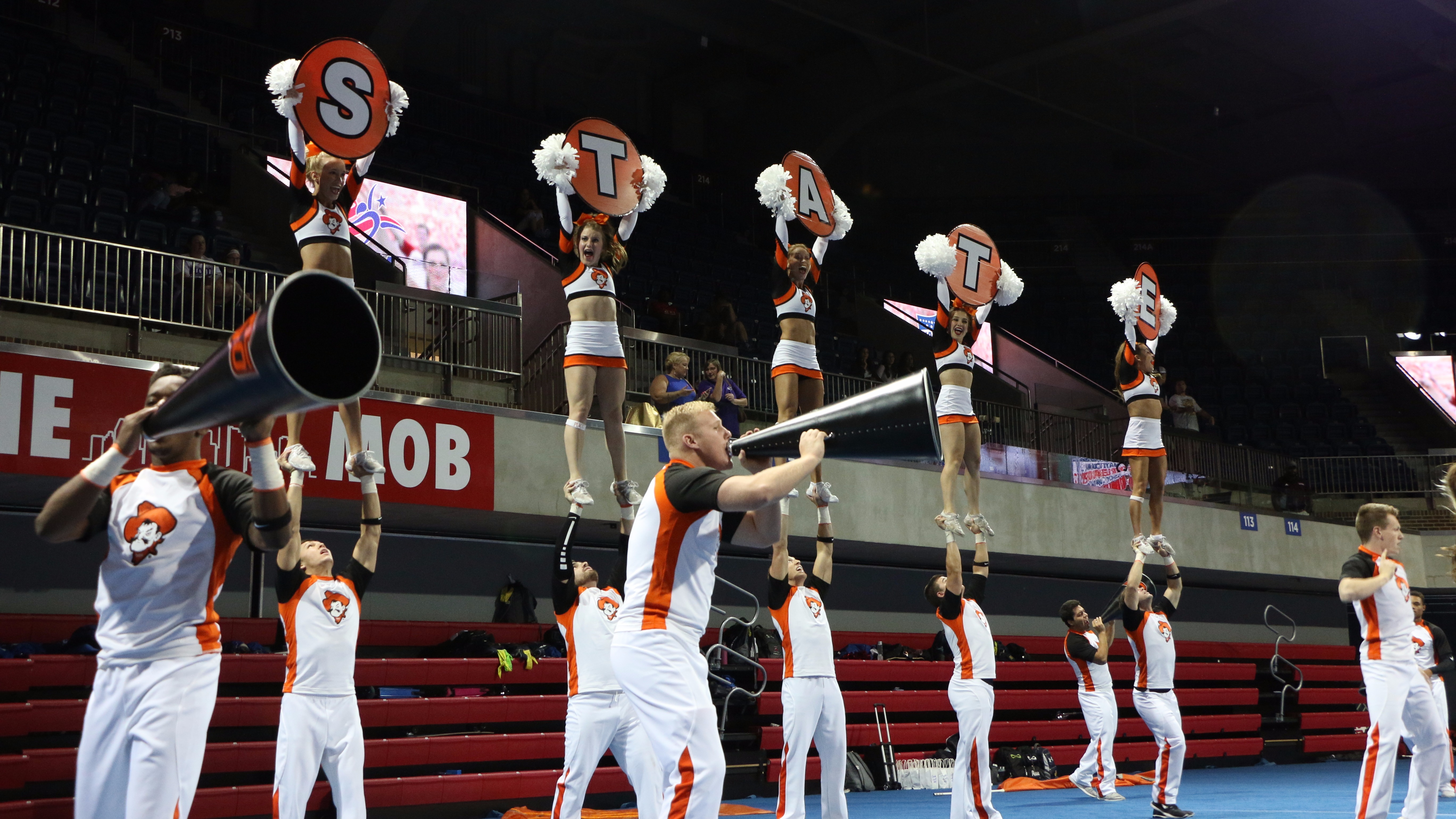 OSU Large Coed performs their traditions S-T-A-T-E spell out at NCA Camp at SMU in Dallas
Small Coed
attend NCA College Camp at Northwest Missouri State University. Bracken said she was very pleased with both squads improvement from camp and overall growth as a team.
Small Coed
won Overall Game Day at NCA Camp.
OSU's top priority is to represent their school well in everything they do, and that starts with their awesome game day atmosphere! An OSU, game day starts with "The Walk" two hours before the game when the team, band, cheer, and pom squads parade down the street from the Union toward Boone Pickens Stadium.
Our pregame is always exciting and packed with skills. We love helping Pistol Pete lead the crowd in O-S-U chant after he fires the shotgun.
Keep up with the Oklahoma State University cheer teams on Instagram, Twitter, and Snapchat this season!
Brighten up your inbox!
Sign up for the Varsity TV newsletter for all the latest updates and get exclusive content like this delivered directly to your inbox.