The squads in Cheer Division lA are some of the most elite teams you will see at the 2019 UCA & UDA College Cheerleading and Dance Team National Championship in Orlando, Florida.
In 2018, The University of Kentucky Wildcats continued their golden legacy when they took home their 23rd national championship title. The Cats are known for delivering a clean routine full of innovative and elite skills.
Watch Kentucky's winning routine here!
The team showed fans a quick sneak peek of this season's opening stunt sequence that has everyone excited to see what the Cats will bring to the mat next weekend.
Some other must-watch teams in Cheer Div. lA are the University of Central Florida, The Ohio State University, The University of Alabama and the University of Hawai'i, just to name a few.
The Knights from UCF took second place at the championship in 2018 with a spirited performance full of energy and elite stunts. They are returning to the nationals again with a young team that's full of talent so make sure to find your seat and cheer loudly when the Knights do their traditional U-C-F spell out!
Watch UCF's 2018 Performance!


The Ohio State University made a jump into the top 3 last year to earn their highest championship placement since 2001.
Varsity TV caught up with the Buckeyes this summer to hear more about the 2018 performance and to find out how they plan to stay in the top again this season.
Champions In The Making: The Ohio State University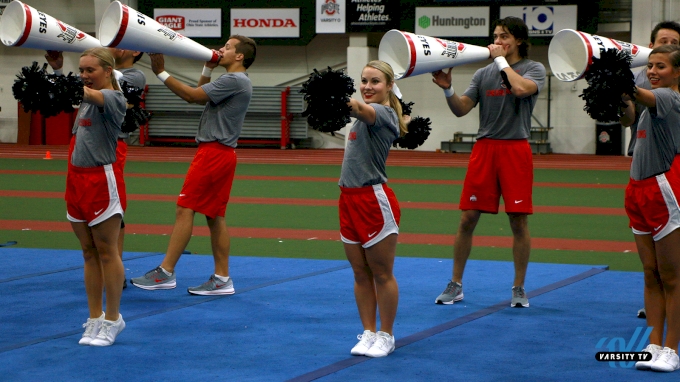 In All Girl Div. lA, the Sooners from the University of Oklahoma topped the division and earned their first national championship title with a solid hit in Finals.
Watch their winning routine from 2018!
Other All Girl teams to be on the lookout for are The University of Alabama and Indiana University. Both of these programs have a history of championship success and are sure to be top contenders again in 2019.
Watch The University of Alabama's 2018 Routine!
Tune in to Varsity TV Saturday, January 19, starting at 10 AM ET to watch UK, Oklahoma and other talented teams perform live in Div. lA Semi-Finals!
---
How To Watch
Join Varsity TV PRO now to stream live Varsity TV competitions & events anytime, on any device!
TV: Available on Roku & Apple TV 4 -- download the FloSports TV app now.
*FloCheer PRO subscribers, you can use your existing login to access to all Varsity TV premium content, live streaming competitions and events.