This Sunday, CheerForce San Diego honored a fallen athlete with an incredible display of courage, resilience and solidarity at the Spirit Sports: Duel In The Desert competition in Palm Springs, CA.
On Saturday, tragedy struck and CheerForce San Diego athlete, Kenrod James, sadly passed in a car accident traveling home from the event. James competed with his team, CheerForce Nfinity, earlier that day.
It's one thing as an athlete to have the courage to hit your routine. It's an entirely different mindset and bravery that gives you strength to step on that same floor 24 hours later, minus your brother. This one is for you Kenny. 💚🖤 Nfinity taking the floor.... pic.twitter.com/2VjNsdQKBJ

— CheerForce (@CheerForceCA) February 3, 2019
As the somber news spread Sunday morning, the coaches and athletes from CheerForce San Diego announced they would continue on and perform for Day 2 of the competition.
Nearly a half hour before the team took the mat, the Palm Springs Convention Center began to swell with hundreds of spectators, family, friends, coaches, and athletes eager to show their support.
The atmosphere was indescribable. Chants of 'CHEERFORCE' thundered well beyond the walls of Hall B. Cell phone flashlights sparkled, filling the darkness and emphasizing the impressive size of the audience that had gathered.
CheerForce Nfinity - Spirit Sports Day 2 Performance
Unlock this video, live events, and more with a subscription!
Get Started
Already a subscriber? Log In

But nothing rivaled the passionate, emotional performance from CheerForce Nfinity.
The roar of the crowd was incredible and the team's tribute to their teammate will be forever in the hearts of those who were there to witness it.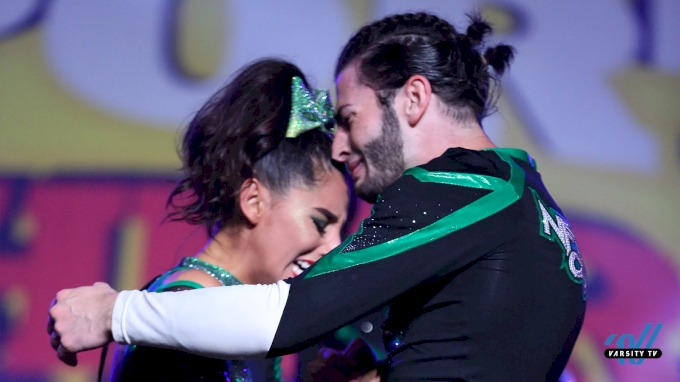 Varsity All Star and Spirit Sports are deeply saddened by the loss and our hearts are with Kenrod's family, friends, and the entire CheerForce community.
Simply,Thank You! To our beautiful cheer community: Our hearts are truly lifted from your show of solidarity and overwhelming love. Our brother smiles down and your warmth will help us come in from the cold.

— CheerForce San Diego (@CheerforceSD) February 3, 2019