2020 CHEERSPORT Nationals: Friday Night Live
Cheer Central Suns Makes It Their Mission To #TeamUp4StJude
Cheer Central Suns Makes It Their Mission To #TeamUp4StJude
Cheer Central Suns have made it their mission as a program to #TeamUp4StJude and raise as much money as possible for Childhood Cancer Awareness.
Sep 26, 2019
by Varsity TV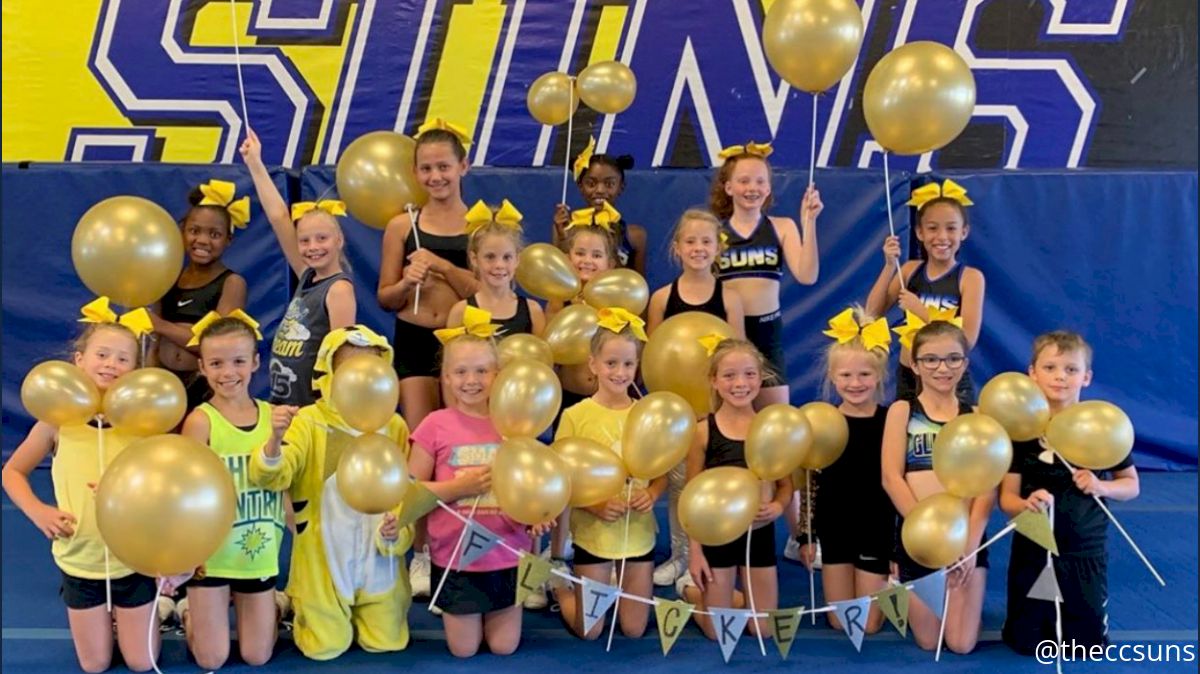 Every September, cheerleaders and dancers combine efforts to raise money for St. Jude Children's Research Hospital. Athletes #TeamUp4StJude to show their support by wearing gold, participating in fundraising events, and dedicating their time to raising awareness for childhood cancer.
This season, one All Star program is going the extra mile to show their support for St. Jude.
Cheer Central Suns made it their mission as a program this season to #TeamUp4StJude and raise as much money as possible for Childhood Cancer Awareness.
Sól is going gold for St Jude!! #ShowYourGold pic.twitter.com/nZE31TiJXa

— Cheer Central Suns Sol (@ccsuns_sol) September 16, 2019
"We are very excited to be raising money for St. Jude this season," shared Owner Wendy Ayers. "Childhood cancer affects so many families, and we want to give back."
The program's reigning Senior XSmall Level World Champions, Lady Suns, is one of 19 teams participating in Friday Night Live at CHEERSPORT Nationals 2020.
Friday Night Live isn't about hitting a perfect routine, it's about coming together with one common goal, to make a difference. Before heading to compete in Atlanta, these teams will be fundraising for St. Jude and will spread awareness through their team social media accounts.
Ayers and the rest of the staff at Cheer Central Suns decided not to limit the fundraising to just one team within their gym, but to make it their program-wide mission for the year.
"We have donated and done events in the past, but this is our first time making this our #1 fundraising cause for the year and rallying everyone behind it!" Ayers shared. "We decided this would be a great cause to rally the WHOLE gym behind. Teams, parents, and individual athletes are all stepping up and getting involved. It's been awesome to see!"
In addition, Cheer Central Suns partnered with Cheer Florida to work together in raising money for the cause. The Florida gym currently has an athlete who is battling cancer, and so the fundraising is really important to them as well.
Cheer Central Suns know that one of the most important roles of being a cheerleader is being an ambassador and they believe it's their responsibility to give back.
"Our kids are so blessed to be able to do what they love. We recognize that there are so many families and kids that are battling for their lives and don't have the luxury of participating in something like cheer. We want to support these kids and the families who are focusing EVERYTHING on getting their kids healthy. The fact that St. Jude 100% focuses on the kids, regardless of the ability of families to pay is incredible."
Each team at Cheer Central Suns has stepped up to raise money in their own creative way. From penny wars to silent auctions, restaurant fundraisers, and more!
"One of the most fun things we have going is our parent teams at each location," Ayers shared. "The parents have come together, donated money and made it their mission to raise awareness for the cause. They are each creating routines and competing against each other to raise money."
When you have not just one, but THREE, parent cheer teams! ? ? ?

Look alive! Here comes SunDried! Introducing our parent cheer teams! #proudtobeasun pic.twitter.com/q25Dk5aauz

— Cheer Central Suns (@theccsuns) September 12, 2019
Cheer Central Suns will hold a gym wide event for the parent teams to showcase their routines this fall. They've also planned a tailgate before the show where they plan to continue to raising money.
September may be coming to an end, but the fundraising efforts aren't over yet. Lady Suns and the rest of the Colorado-based program will continue to raise awareness as the season continues and their big push will be in February at CHEERSPORT's Friday Night Live.
"They are OVER THE SUN excited! This event is EXACTLY what our gym is about."
"We believe strongly in support, love and giving back," Ayers shared. "So, participating in Friday Night Live is an honor for Lady Suns. They can't wait to take the stage with all of the amazing teams to raise awareness for a great cause!"
We've gone all-out for @StJude and cannot wait for @CHEERSPORTCorp Friday Night LIVE! #legendaryladysuns #sunsgiveback #showyourgold pic.twitter.com/nAJBm0PuFD

— Lady Suns (@ccsladysuns) September 19, 2019
Interested in how you can #TeamUp4StJude?
Keep sharing your posts on social media by using the hashtag #ShowYourGold and don't forget to make a donation by using the link below!
Be sure to tune in for CHEERSPORT's Friday Night Live on February 14th in Atlanta, Georgia! There will be a donation booth set up on-site at CHEERSPORT, but fans watching along on Varsity TV can donate online as well.
It's all about giving back and leading the fight to end childhood cancer.