The 2019 national champions in Large Varsity Division l are back again this season and don't appear to be slowing down one bit. Fossil Ridge came to the UCA & UDA Mile High Championship in Denver, Colorado and knocked their routine out of the park to earn the victory.
In an early-season competition that had its fair share of nervous jitters and errors, the Sabercats came out and looked prepared and comfortable with their routine. Competing in the Medium Varsity division, they rocked the house on their building skills with confidence that proved that they are well on their way to more success this season.
Coach Nikki Rodriguez told us that consistency has been the key to their confidence, starting in practice above all else. "We started doing full outs in mid-September and have 'hit boards' where we keep track of hits so the kids can track their progress and consistency", she said. That visual "hit-tracking", as well as video review and lots of cleaning, lead to the Sabercat victory on Saturday night.
As they look to make more history in 2020, this was an impressive stepping-stone on their way.
[WATCH] Fossil Ridge - Game Day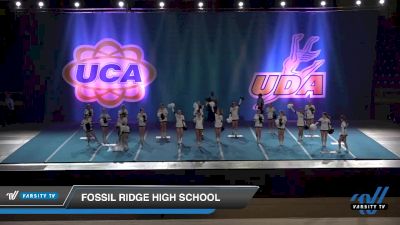 Unlock this video, live events, and more with a subscription!
Get Started
Already a subscriber? Log In
Some things to look out for from Fossil Ridge this season are their extremely clean style, as well as their new and improved inversions. Rodriguez noted, "we were really excited to showcase our inversion to the top because we are extremely proud of the fact that we couldn't do a single one of these well until August".
She detailed how they have been relentlessly pursuing those inversion-style skills to incorporate them as they have been slowly being introduced into the allotted skill set for school teams. Also, keep an eye on their impressive use of the floor with transitions and exceptional formation work.
[WATCH] Fossil Ridge - Medium Varsity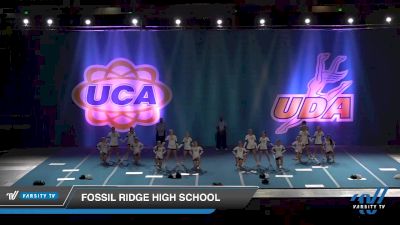 Unlock this video, live events, and more with a subscription!
Get Started
Already a subscriber? Log In
The victory was especially sweet for Rodriguez and the team because they have been stretched extremely thin leading up to the event. Within eight days, they had three separate competitions, practice almost every day, multiple division routines within the competition, and the usual strain of the daily life of a high school athlete. She proudly told us that she was proudest of "their mental toughness to hit and not use excuses of 'tired'. They showed up and proved themselves again". The team is out to prove that this is not a rebuilding season and that they have what it takes to hang with the best of the best staying true to who they are.
Congratulations to Fossil Ridge on your UCA Mile High Championship victory, and good luck on your road to Orlando!
Written By: Thomas Parrott
View More From The 2019 UCA & UDA Mile High Championship