Woodlands Elite Gunsmoke won big and secured a Paid Bid to The Cheerleading Worlds this weekend at the 2019 Encore Championships.
The new team has taken on the Senior Open Small Coed Level 6 division and so far, they are dominating! Gunsmoke hit-zero and scored above a 97 on both days in Houston with an action-packed routine that you have to see to believe.
Gunsmoke's routine opens up with a mix of tumbling, three coed tosses at the back of the mat, and some high-flying baskets. They transition into a quick standing tumbling section that features three toe touch fulls from the male athletes at the front of the mat.
Gunsmoke's choreography truly shows off the athleticism of the athletes. The team's first stunt spins up, the top girls immediately hit an arabesque, and without taking a breather, the bases dip for the double downs. The Texas team transitions straight into a second standing tumbling section that once again highlights the strong male tumblers on the team. Three athletes perform double whip doubles before moving into their elites.
The high energy routine continues as the athletes perform a unique transition into inverts and four athletes tumble across the front of the mat. Their elite stunt was packed with skills and Gunsmoke made it look effortless!
While their stunts were impressive, Gunsmoke made it clear that their biggest strength is their tumbling. The last pass of their running tumbling section features a specialty bounce back pass where the talented athletes ends in a split at the center of the mat.
After a fun pyramid section, Gunsmoke ends their routine with a high energy dance that even includes some impressive breakdancing moves!
By the looks of their performances this weekend, Woodlands Elite Gunsmoke is all set for a successful season.
[WATCH] Woodlands Elite Gunsmoke - Day 2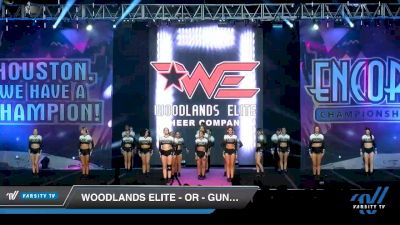 Unlock this video, live events, and more with a subscription!
Get Started
Already a subscriber? Log In
Music courtesy of New Level Music.