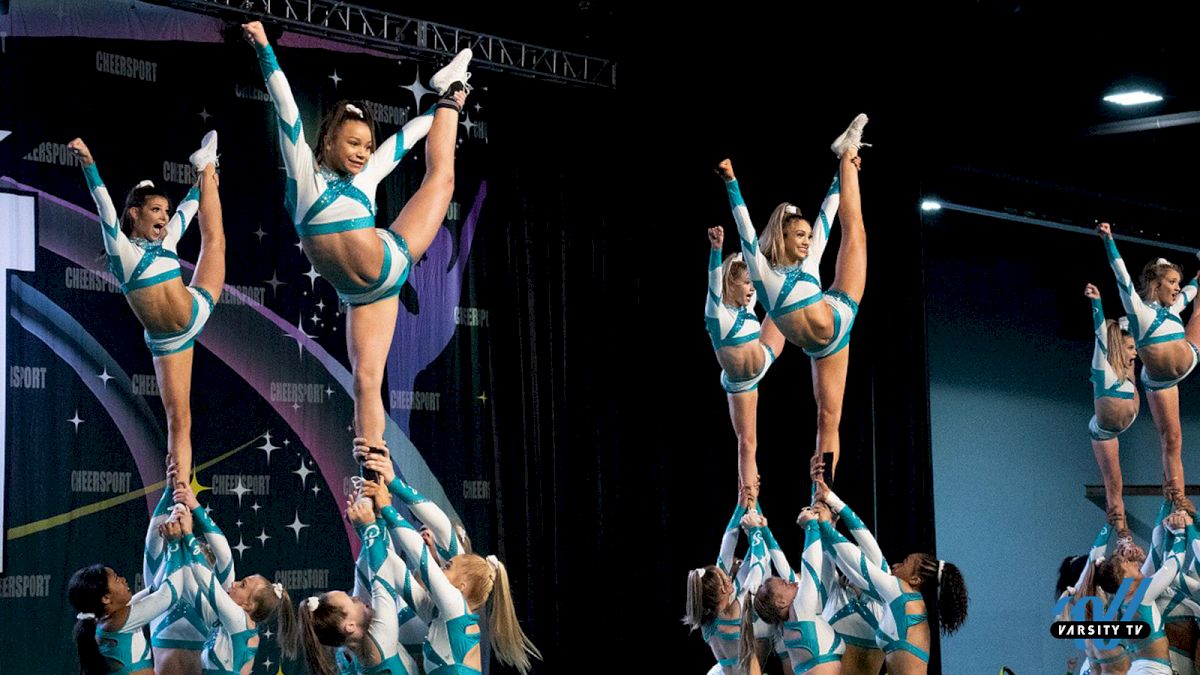 It's that time of year when teams are getting ready to take the mat in Atlanta, Georgia, at one of the biggest all star cheer competitions of the year. CHEERSPORT Nationals 2020 is one of the most exciting events of the year, and it is also the first stop on the journey to the Varsity All Star Triple Crown!
---
Who: All Star Cheerleaders
When: February 14-16 starting Friday at 6 PM ET.
Where: Georgia World Congress Center in Atlanta, GA
Watch: LIVE on Varsity TV
---
Venue Insider
This major all star cheerleading championship takes place in the heart of Atlanta, at the Georgia World Congress Center.
With seven venues this year, CHEERSPORT Nationals is set to utilize over one million square feet of the GWCC!
For parking, maps, and directions, click here. Please use entry points into Building B and C for your fastest routes. We recommend your purchase parking prior to arriving.
The weekend of fun starts Friday with Friday Night Live in Arena B5. CHEERSPORT's Friday Night Live is benefiting Team Up For St. Jude, spirited by Varsity. If you can't make it to watch the show in person, you can watch it all LIVE on Varsity TV for FREE starting at 6 PM ET.
The seven competition venues for the weekend will be, B1, B2, B3, B4, B5, C1, C2.
View Championship Order of Competition
Taking a break from the competition? Visit the Centennial Olympic Park, CNN Center, Georgia Aquarium, or the College Football Hall of Fame! Click here to receive special discounts on tickets and tours.
---
CHEERSPORT Friday Night Live
CHEERSPORT Nationals 2020 kicks off with Friday Night Live on February 14 in Atlanta. Friday Night Live isn't about hitting a perfect routine; it's about coming together with one common goal, to make a difference.
Seventeen of the top Senior Level 6 teams in the country will take the mat with a goal to raise as much money as possible for St. Jude Children's Research Hospital.
Click here to view the 2020 CHEERSPORT Friday Night Live Lineup
The fundraiser is about spreading awareness and leading the fight to end childhood cancer. Donation booths will be set up at the competition and fans viewing the competition on Varsity TV can donate also.
Before heading to compete in Atlanta, these teams will be fundraising for St. Jude and will spread awareness through their team social media accounts.
There will be a donation booth set up on-site at CHEERSPORT, but fans watching along on Varsity TV can donate online as well. It's all about giving back and leading the fight to end childhood cancer.
---
The 2020 CHEERSPORT Nationals is always filled with excitement and the best of the best teams will be taking home bids to The Summit, The D2 Summit, The U.S. Finals, The Quest, and The Cheerleading Worlds.
Bids Up For Grabs At CHEERSPORT
10 Paid Bids to The Summit
All eligible division winners will receive an At-Large Bid to The Summit*
10 Paid Bids to The D2 Summit
All eligible division winners will receive an At-Large Bid to The D2 Summit*
1 Paid Bid to The Quest
3 At-Large Bids to The Quest
Gold Bids to The U.S. Finals
9 Paid Bids to The Cheerleading Worlds
19 At-Large Bids to The Cheerleading Worlds
*Bids to The Summit & D2 Summit 2020 will be passed down to the Runner-Up Team if the National Championship Team already has a bid.
You don't want to miss some of your favorite teams take one of the biggest mats known to all star cheer! Watch the 2020 CHEERSPORT Nationals all LIVE right here on Varsity TV!
---
How To Watch
Join Varsity TV PRO now to stream live Varsity TV competitions and events anytime, on any device!
TV: Available on Roku and Apple TV 4 -- download the FloSports TV app now.
*FloCheer PRO subscribers, you can use your existing login to access to all Varsity TV premium content, live streaming competitions, and events.