Most cheerleaders and dancers join a team at a young age just looking for a hobby or an afterschool activity. But after years of practicing, conditioning, long game days, and competition weekends, these athletes look back on the hours spent with their teammates and realize that cheer and dance taught them a lot more than just the skills they learned on the mat.
Cheer and dance teaches athletes hard work, dedication, accountability, and many more life lessons that will stick with them long after their days on the sidelines are done.
This summer, Varsity TV is catching up with current and former college athletes, coaches, and staff instructors to find out why they love cheer and dance and to learn about the lessons they learned throughout their careers.
Meet Sarah Metts!
Sarah had a very unique start to her cheerleading career. She started in gymnastics when she was two years old taking a 'Mom & Me' class.
"Truthfully, I was never interested in cheerleading, I wanted to stay a gymnast my whole life," Metts explained. "However, at age 7, my uncle got really sick with cancer, and my cousin, who cheered her whole life, temporarily started living with my family. My mom started taking her to cheerleading practices and eventually asked me if I was interested in trying out next season. I was very hesitant at first, but seeing my cousin love the sport so much, I figured I would give it a try!"
Metts cheered for the Pennsbury Falcons Cheerleading Association until the age of 15, before moving on to cheer for Pennsbury High School where she became captain her senior year. She cheered in college at Florida Atlantic University and Temple University.
"Now, here I am, still putting on a uniform every year, and teaching others to love the sport just as much as I do. Everything I have learned about confidence, charisma, work ethic, and adversity has rooted from my cheerleading career"
Every summer Sarah Metts works as a Head Instructor for the National Cheerleaders Association. When she is not working with NCA, Sarah is a News Reporter in Central Pennsylvania.
Sarah's Favorite Cheer Memory:
My favorite cheer memory would have to be my senior year at NCA camp. I was captain of my high school team, and after having such a great week with the entire staff, I was handed an application to try out the following year.
This blue paper meant the world to me. After being a camper for so long, and looking up to everyone on staff each summer, just knowing they thought I had the potential to stand alongside them in red, white, and blue was an honor.
That is why I continue to shine the shield year after year.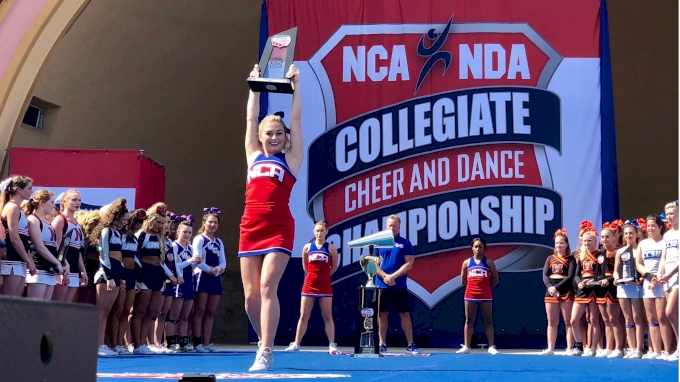 How do you think your time as an athlete has helped you in your current role?
Cheerleading has completely brought me out of my shell. I have always been an introvert, but when I am in uniform, I feel like a new person. I think that has helped me immensely when it comes to my reporting career. Because of cheerleading, I now know that it's ok to push myself out of my comfort zone every day, I now know it's ok to fail, as long as you get back up and learn from the experience.
I am driven, confident, and loyal because of cheerleading, and I work to pursue greatness both on the mat, and in my everyday life because of this sport.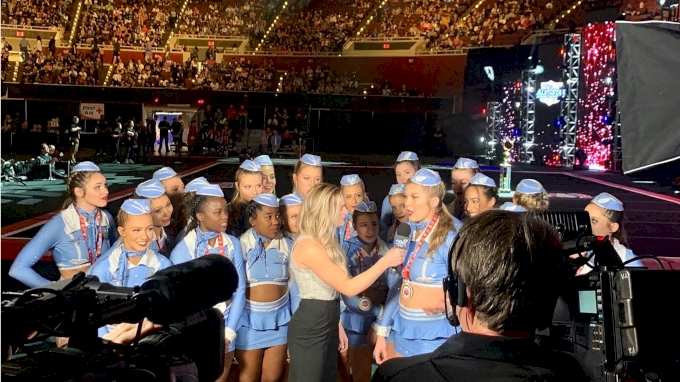 What life lessons do you think you've learned from cheer?
There have been many life lessons I have learned from this sport. But one I choose to always keep in the back of my mind is to always be YOUR best, so YOU can set an example for those who come after you, and make those who came before you, proud.
Why would you encourage someone to try out for cheer?
I thank my parents every day for the opportunity to try out for a team when I was seven. At a young age, it really isn't about winning, or what your skill level is, it's just about friendships and pure love for cheer.
I am grateful I was able to find my love at such a young age, and work hard to then achieve my goals once I got older. Cheerleading helps you grow both on the mat and off the mat.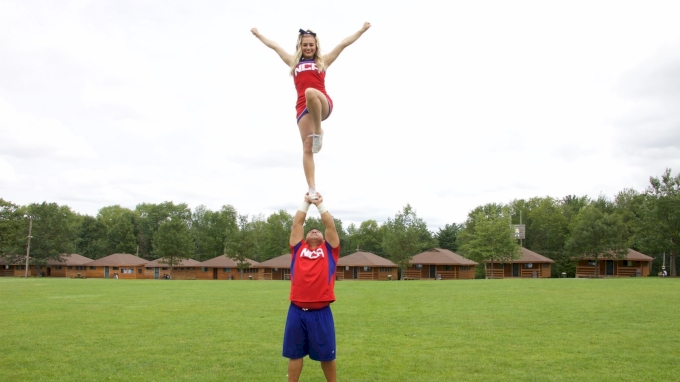 If you could give a young athlete one piece of advice, what would it be?
If I could give younger athletes one piece of advice it would be to always work hard for what you want in life.
My high school had a motto, and it was 'adversity breeds champions.' Just because you fail, does not mean you give up. It means you grow up, you learn from it, and you continue to move forward.
Cheerleading has taught me that the lessons you learn to go beyond just the mat or the sideline. Set goals, and always continue to work towards those goals. I am a huge advocate for never taking 'no' for an answer.
If someone tells you that you can't do something, prove to them you can, and prove to them you will. Eyes on the prize---always.