UCA
What Cheer Taught Me: Jocelyn Stephens
What Cheer Taught Me: Jocelyn Stephens
Get to know Texas State Coach, Jocelyn Stephens, and find out how cheer has made an impact on her life and career!
Jul 22, 2020
by Varsity TV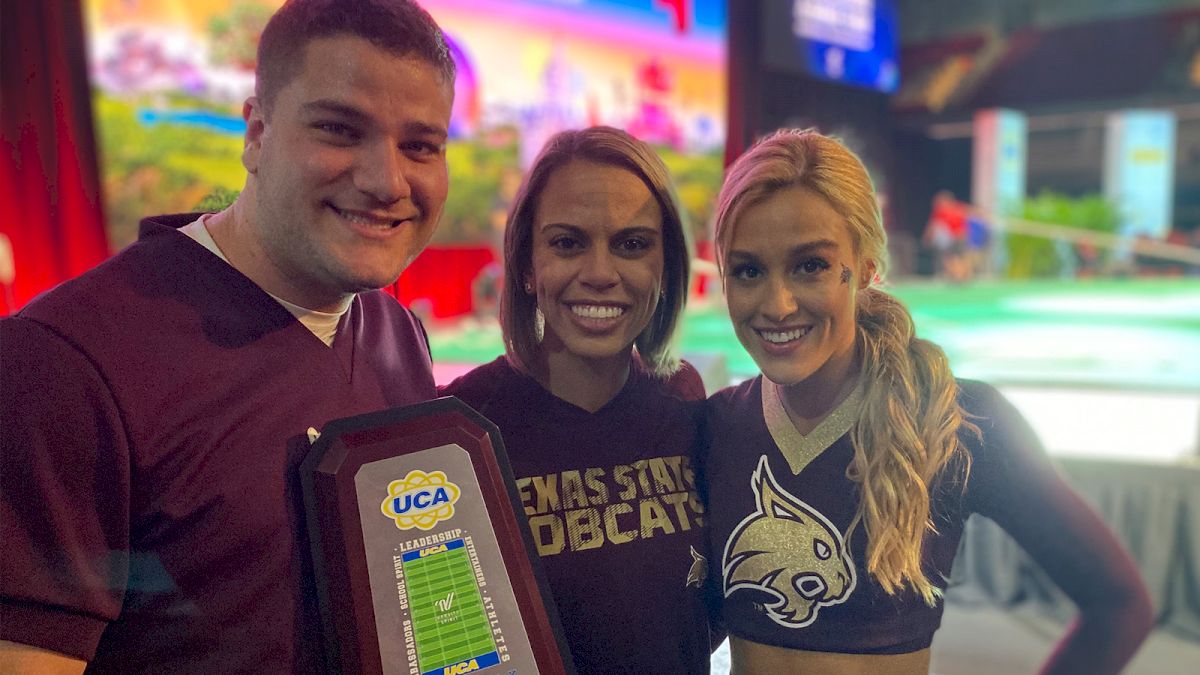 Most cheerleaders and dancers join a team at a young age just looking for a hobby or an afterschool activity. But after years of practicing, conditioning, long game days, and competition weekends, these athletes look back on the hours spent with their teammates and realize that cheer and dance taught them a lot more than just the skills they learned on the mat.
Cheer and dance teaches athletes hard work, dedication, accountability, and many more life lessons that will stick with them long after their days on the sidelines are done.
This summer, Varsity TV is catching up with current and former college athletes, coaches, and staff instructors to find out why they love cheer and dance and to learn about the lessons they learned throughout their careers.
Meet Jocelyn Stephens!
Jocelyn Stephens is from Seaville, NJ and she started in cheer at 5 years old with her township rec cheer program.
In 2nd grade, she started all star cheerleading and continued until her senior year of high school. During her time in all star, Jocelyn cheered at Victory All Stars, South Jersey Storm, and All Star One. She competed at The Cheerleading Worlds in 2008, 2010, 2011, and 2012. She also cheered all for 4 years in high school.
Stephens went on to attend Morehead State University where she graduated in May 2016 with a BA in Strategic Communication and Leadership. While at MSU she was a member of the all girl team and won UCA College Nationals in 2014, 2015, and 2016. She was a member of the US National All Girl Team in 2015 and 2016 winning gold at the ICU World Championships.
Stephens is currently the Spirit Coordinator and Head Cheerleading Coach at Texas State University heading into her 4th season. She is also a 7th year UCA Staff Instructor on Core Staff, Masters Circuit, and College Camps.
"By 2015, I met a lot of people that inspired me to continue to grow and learn as a cheerleader and individual that I could not imagine that my cheer journey ending that upcoming year (senior year). When I walked off the mat for the very last time at ICU Worlds 2016 I was completely content that my time as an athlete was done and I was so excited to discover my next move where I could lead others to opportunities and experiences similar to or greater than mine."
Jocelyn's Favorite Cheer Memory:
This is a hard question because I cherish many memories in my stages of cheerleading. But my favorite cheer memory would have to be one of our first few performances before UCA College Nationals in 2015. We went to Rowan County High School to perform at half time of a basketball game. It was a long day – we practiced twice earlier that day, had to move the mats to the school, and we "were due for a hit".
Long story short we thought we could warm up in the cafeteria, but the ceiling was too low and we decided to just "go for it". We hit and from that moment forward whenever we went full out we would say "act like your at Rowan County". I believe we hit over 20 times before nationals that year.
So much trust, faith, and love was shared on the mat with that legendary Morehead All Girl routine.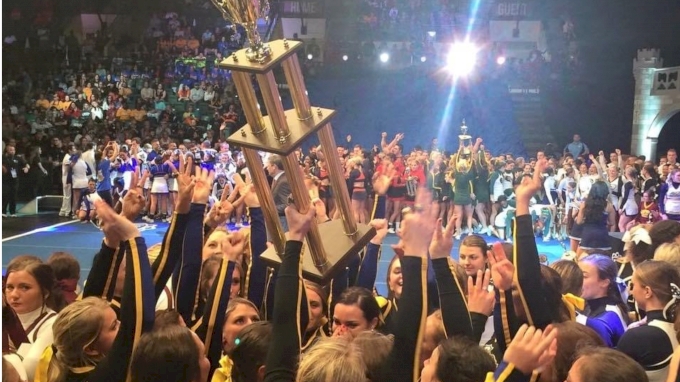 How do you think your time as an athlete has helped you in your current role?
I am so thankful for my all star coaches, I was that youth athlete for 5 years and I was a Level 2-4 cheerleader for a majority of my career. I was taken out of the air because my team needed me in a different role. I was pushed hard and loved harder which fueled my passion. My cheer gym was always a place where I got to be the best version of myself.
In college, we were quickly told everything that you've done as an individual to get to this point no longer mattered – and that was the most humbling thing we needed to hear. The value of team mentality and accountability showed us we were limitless. I learned that even when I was working at my best I still had more to give. It challenged me in so many ways on and off the mat.
"As a coach, I have made my purpose to lead athletes to find their courage. It is not enough for your coaches and teammates to believe in you – you have to believe in YOU. No one can truly help you or lead you to the next level unless you can see yourself there first."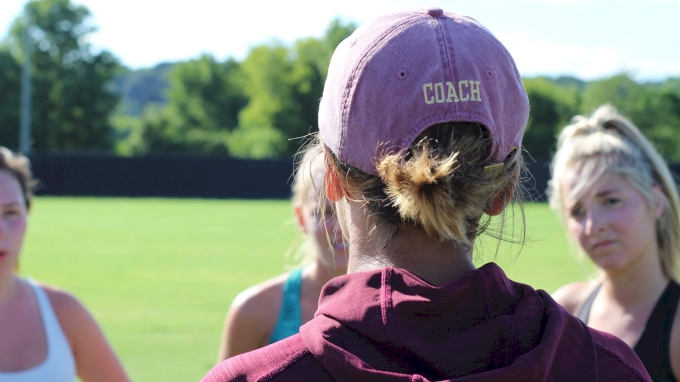 What life lessons do you think you've learned from cheer?
The greatest lesson I learned is that you are your biggest competition. We often would say win the routine, leave the judges no room to give it to someone else. If there is a bobble, timing issue, etc. that is you opening the door for them to even just think another team could get it.
When you put yourself in a mindset that you and your team can control the outcome with your performance level it truly gives you a competitive edge. I am a believer in leaving it all on the mat and having no regrets.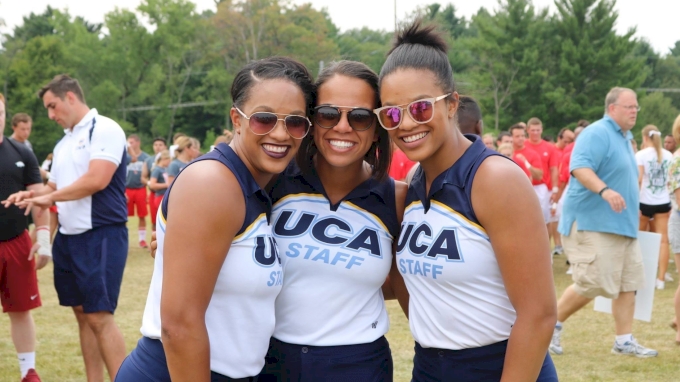 Why would you encourage someone to try out for cheer?
Prepare for the opportunity and be prepared to put in more work than asked of you. When you are passionate you cannot let anything stop you from achieving your goal(s). And if you do fall short of your personal expectations or don't make the team you wanted, focus on what you can control: your energy and effort. There is no one out there who will be upset or bothered by someone who wants to work harder.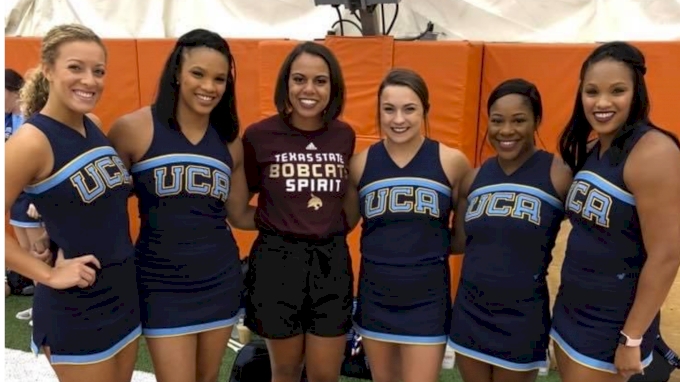 If you could give a young athlete one piece of advice, what would it be?
Keep learning. When you are no longer learning you are no longer growing. You can learn from everyone — those older than you, younger than you, your teammates, and your opponents. Be observant, a leader by example, and bring your energy.