The USA National Team is home to America's top female athletes in the prime of their cheerleading career and is the dominant team in the Premier all girl division. Follow their journey in Orlando, Florida just 9 days before 2016 ICU World Cheerleading Championships, as the team met for the first time ever to form stunt groups, build their routine and become a world championship team.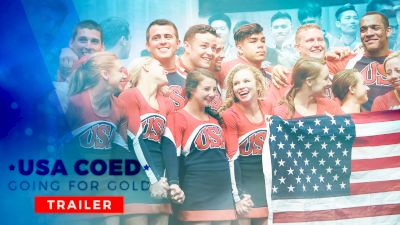 Going For Gold: USA Coed | Season 2 (Trailer)
Jun 21, 2017
Passion, pride, athleticism and talent define the USA Coed National Team. They've trained their entire lives to perform the most elite skills in cheerleading, and earning a gold medal at the ICU World Championships is the ultimate goal.
Follow the team and their world-class coaches through tryouts, training and competition. What does it take to earn a gold medal competing with the top teams in the world? Find out in this 3-part documentary exclusively on Varsity TV.
---
Watch the full series now!