That's right, YOU decide the high school and college spirit programs featured this season on Varsity TV. Fans will choose the FIVE fan-favorite spirit squads who will be highlighted in exclusive in-depth features—and possibly an original documentary! HOW IT WORKS | VOTE NOW | 2017 WINNERS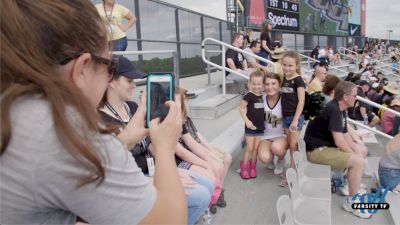 Learn About UCF's 3rd Quarter Tradition
Jan 10, 2019
As a college cheerleader, your number one roll is to be a spirit raiser and an ambassador for your school.
The University of Central Florida has created a special tradition at their football games where they spend the 3rd quarter in the stands visiting with fans.
Varsity TV caught up with the team to learn more.
---
Watch It's Game Day: University of Central Florida
In the new three-part Varsity TV series It's Game Day: University Of Central Florida, we go behind the scenes with the Knights as they prepare for one of the greatest homecoming traditions in the country.
Find out more about the series and watch Episode 1 HERE.