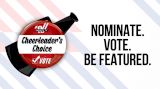 2019 Cheerleader's Choice: School Spirit Spotlight
Jun 3 - Jul 1
School Spirit, USA
Cheerleader's Choice is your chance to pick the high school and college spirit programs that will be featured this season in exclusive in-depth features—and possibly an original Varsity TV documentary!
Help us shine a light on the teams that elevate school spirit, champion their communities, drive competitive excellence and make the world a more spirited place.
Share the background, tradition, community service and school spirit initiatives. We want to know what makes your team special and the more details you have, the better!
2. Top 20 Finalists Selected
Our super spirited Varsity TV panel will read all the nominations and hand-select 10 high school and 10 college finalists to move on to the final fan vote!
3. Vote
There will be 20 finalists, but only FIVE will have the opportunity to call themselves 2019 Cheerleader's Choice winners!
You can vote once a day, every day during the voting period. So get creative and get spirited - make some posters and rally social media, your school, family, and friends to vote your favorite team onto victory!
The five spirit squads that receive the most votes will be featured this season on Varsity TV! All 5 champions will be revealed on Monday, July 1, 2019. It doesn't get more exciting than that!
2019 Cheerleader's Choice Schedule
NOMINATION ENTRY PERIOD: Mon. 6/3 at 8 AM CT – Fri. 6/14 at 8 PM CT.
TOP 20 FINALISTS REVIEWED & SELECTED: Sat. 6/15 - Tue 6/18.
VOTING PERIOD: Wed. 6/19 at 8 AM CT – Thurs. 6/27 at 8 PM CT.
WINNER REVEALS: July 10, 2019
Rules & Restrictions
Anyone may submit a nomination. Spirit programs nominated must be located in the United States in order to be eligible to win. Finalists will be selected based on creativity, originality, community involvement and uniqueness. Multiple nominations for the same program will be taken into consideration. Finalists will consist of 10 high school programs and 10 college programs. Votes are limited to one per person, per day. The five programs receiving the most votes will win.