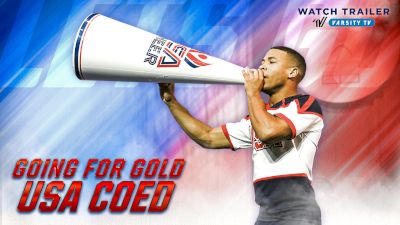 Going For Gold: USA Coed | Season 4 (Trailer)
Sep 6, 2019
USA Cheer sets the bar high every year at the ICU World Cheerleading Championships. The Coed team always puts the most elite skills in cheerleading out on the mat, which can also come with a lot of risk.
In 2015, USA Coed lost for the very first time. It was a turning point for coach Leroy McCullough and his coaching staff. They have used the loss every year as motivation and have been successful on the mat since that year. Will the U.S. National Coed team bring back another Gold Medal for the USA in 2019, or will they be defeated once again?
Follow the 2019 USA Coed Team through tryouts, training and ICU in the 3-part series Going For Gold: USA Coed (Season 4)!
---
Enjoy Everything Varsity TV Has To Offer!