Ben Ingallina is originally from Phoenix, Arizona and has been a part of the US National Coed Team for four years now! He cheered at Faulkner State Community College his freshman year of college and then transferred to the University of Alabama his sophomore year. He cheered at Alabama for three years and received his degree in Public Relations.
Ben currently coaches at Tumble Tech in Austin, Texas, while still training to compete with USA Coed mid October in Costa Rica! The team will begin training October 13th and will be Costa Rica bound on the 17th in hopes to bring home another Gold Medal for the USA!
"I'm mostly looking forward to putting on that uniform and competing for the Red, White and Blue with the best athletes in the world!" Ben said. "I cannot wait for all of the new memories and can't wait to get to training for another opportunity for USA Cheer to claim a Gold Medal!"
Ben is a huge asset to the USA program and his teammates all know him to be the one to lift everyone up in positivity during a challenging practice. He began his journey with the team in 2015, and although the world titles are a plus, he continues to come back year after year for other reasons than just a Gold Medal.
"I come back because of all of the relationships I make with all of our teammates," said Ben. "Some of my best friends have been made through USA, and I cherish the memories I get to make with them!
Each year the US National Teams are made up of incredible athletes, on and off the mat. Ben says this year was one of the most talented teams he's had the privilege of competing with.
"The most special thing about this team is everyone's incredible cheer resumes," said Ben. "Our coaches all coach at amazing colleges, we have a Cirque Du Soleil performer on our team, an Olympic Gold Medalist in weight lifting, and even four NCA partner stunt champions. Everyone is just so good!"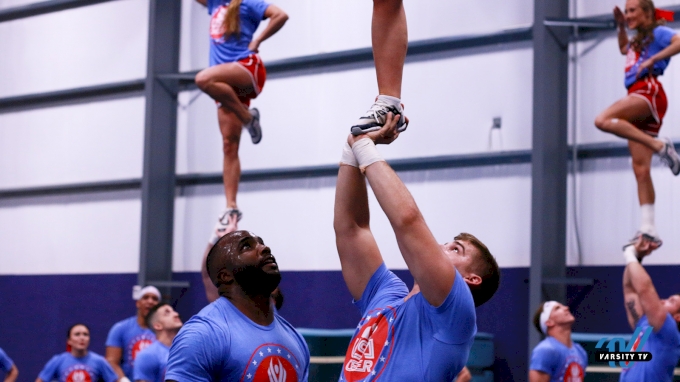 As many of the USA athletes will tell you, they gain so much more than just an ICU title during the process. They build friendships that will last a lifetime over such a short period of time.
What was your favorite part about training this year?
"My favorite part about training is the laughter and camaraderie of everyone together," said Ben. "I can't tell you how many times my stomach would hurt from just laughing so much. Those memories made are the most important thing to me."
After days of intense training, there's nothing more that these athletes want than to stand on the podium as Gold Medalist. Some of them have been waiting their entire lives for that moment!
"The National Anthem always makes me emotional," said Ben. "It reminds me how blessed I am to be able to do something I love. I've felt that feeling four times now, and it never gets old."
"Representing the USA is something so truly humbling and honoring. I am so proud that I get to represent the greatest country on Earth through cheerleading!" -Ben Ingallina
Although training for the US National Team's is only 12 days long, it feels a lot longer than that to the athletes! They eat, sleep and breathe cheerleading for the whole duration of training, but of course manage to have a great time while they're doing it.
"My favorite memories were the ice baths after practice with Chris Ethridge, Kollin Cockrell and John Stuart. We were always the first out there and we listened to 80's rock music, while embracing those ice baths!"
Fun Fact About Ben:
"I can ride a unicycle and juggle at the same time!" -Ben Ingallina
---
Can't get enough of USA Cheer? Take a look at a few of Ben's teammates!
Meet USA Coed Athlete: John Stuart