We've got another spirited week heading your way because it's UCA Week on Varsity TV!
Relive all the action plus exclusive content and interviews from the UCA & UDA College Cheerleading and Dance Team National Championship and the UCA National High School Cheerleading Championship!
Be on the lookout for deleted scenes from your favorite films like All In: Blackman Highschool!
What To Watch This Week On Varsity TV
---
It's UCA Week On Varsity TV!
It's going to be a spirited week full content on your favorite college and high school spirit programs.
Take a look back at some of our favorite memories from the championships and catch up on all your favorite films from Building The Buckeyes following The Ohio State University and Sideline To Center Stage with Bowling Green High School!
[WATCH] All In: Blackman Highschool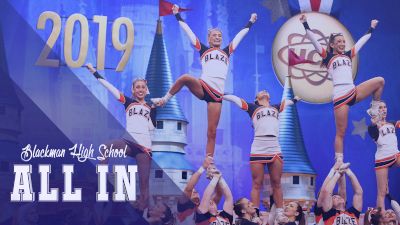 Enjoy the very best Varsity TV content from original documentaries, competition routines, replays, exclusive interviews, and more!
Check out these upcoming Varsity TV Live events:
The MAJORS 2020
Tuesday, April 14 at 5 PM CT
An evening of MAJOR action is heading your way! Watch every performance from The MAJORS 2020 including exclusive interviews with the champions!
View Full Coverage | Watch LIVE
Thursday, April 14 at 12 PM CT
Relive all the action from the 2020 NCA & NDA College Showcase including more than 30 exclusive interviews from some of your favorite college teams!
View Full Coverage | Watch LIVE
Spirit Spotlight
Saturday, April 18 at 12 PM CT
Watch more than 40 episodes of original documentaries highlighting your favorite school spirit programs! From It's Game Day: Texas Tech to All In: Blackman High School, fans are in for a treat as we go behind the scenes with some of the most spirited programs in the nation.
View Full Coverage | Watch LIVE
---
Stuck inside and looking for a way to stay active and healthy? Then look no further because the Varsity Fit Training Guide is here to make fitness fun and easy!
With Varsity Fit, you'll have access to a fitness guide created specifically for cheerleaders and dancers that you can do in the comfort of your own home! Keep your body performance-ready and work up a sweat with 16 custom-made workouts that will help you build muscle, increase flexibility, and master balance.
By the end of the eight weeks, your fitness progress will be undeniable, but don't take our word for it! Make sure to do the Varsity Fit Test before and after to see how much you have improved.
Varsity Fit Training Guide Hub | Take The Varsity Fit Test | View Varsity Fit Workout Guide