UCA
What Cheer Taught Me: Dan Weaver
What Cheer Taught Me: Dan Weaver
Get to know Minnesota's Dan Weaver and find out how cheer has made an impact on his life and career!
Jul 28, 2020
by Varsity TV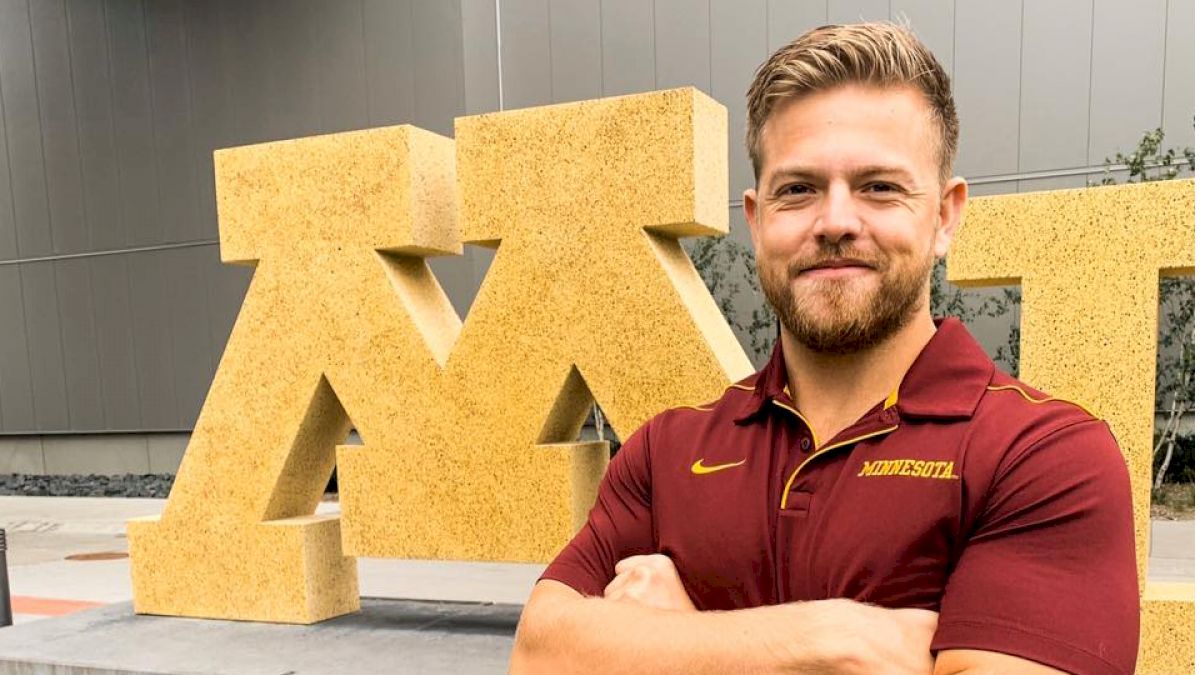 Most cheerleaders and dancers join a team at a young age just looking for a hobby or an afterschool activity. But after years of practicing, conditioning, long game days, and competition weekends, these athletes look back on the hours spent with their teammates and realize that cheer and dance taught them a lot more than just the skills they learned on the mat.
Cheer and dance teaches athletes hard work, dedication, accountability, and many more life lessons that will stick with them long after their days on the sidelines are done.
This summer, Varsity TV is catching up with current and former college athletes, coaches, and staff instructors to find out why they love cheer and dance and to learn about the lessons they learned throughout their careers.
Meet Dan Weaver!
Dan Weaver got his start in cheerleading during his first weekend of college at the University of Delaware and he's been full-steam ahead ever since.
"I was able to join the team at a very exciting time in Delaware Cheer's history, and be a member of teams that went on to win back-to-back UCA College National Championships in both 2014 and 2015."
After his four years at Delaware, he was presented with an opportunity to begin coaching as a Graduate Assistant at Providence College (RI). During his two years at Providence, Dan earned his MBA and he was able to help pioneer the first team in Providence history to compete at the UCA & UDA College Cheerleading and Dance Team National Championship.
"Throughout school, I always knew cheer was a passion of mine but I never considered it as a career because full-time jobs in cheerleading are very rare where I came from," Weaver explained. "I accepted the Graduate Assistant position at Providence College because it allowed me to continue to be involved in cheerleading while also diversifying my resume through great experience working in a college athletics office and also earning an MBA."
"As I came to the end of my time in Providence, I had discovered that I had a knack and a passion for this career. I also had a realization when I was standing on the floor at Madison Square Garden during the BIG EAST Men's Basketball Tournament that I was a broke 23-year-old graduate student, and I was getting experiences through work that other people would have to pay thousands of dollars for. That's when I knew that a paycheck alone would not make me happy if I wasn't doing something that I love doing."
Dan currently works full-time coaching at the University of Minnesota and continues's to work as an instructor for UCA during the summer.
Dan's Favorite Cheer Memory:
One of the beautiful things about cheer is that it allows us to be a part of so many incredible moments in college sports, from March Madness to Bowl Games.
However, my favorite memory as an athlete was winning UCA College Nationals in 2014. Although I was an alternate that year, there was an intense passion that I found for this sport when Delaware's name was announced as the National Champions, taking down Morehead State's incredible 13-year win streak.
To be in the gym for hours and hours every day with a group of people that are putting everything else in their lives on hold to train for one routine, and then see that hard work be rewarded is one of the most indescribable feelings I've ever experienced. That championship helped me realize at a young age that there is nothing you cannot accomplish through hard work.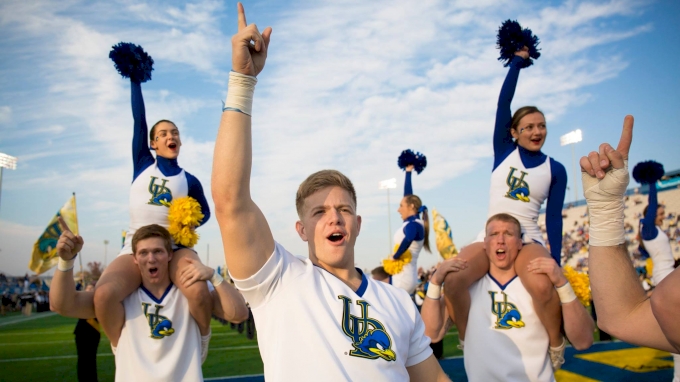 How do you think your time as an athlete has helped you in your current role?
I was very fortunate to have outstanding coaches and teammates at the University of Delaware. During my time, I got to cheer for three former members of the US National Team that have gone on to other roles still in the industry today: Ben Schreiber (The Ohio State University), Gillian Guadagnino Patrick (University of South Florida), Rob Ellery (V!ROC).
When your coaches are of that caliber, there really isn't any room for slacking off, and there's no excuse for not learning a lot. I was able to learn so much about cheerleading, and how to teach cheerleading, from them. Seeing them still in the industry today has also helped illuminate a career path that I was unsure was a realistic option at many times.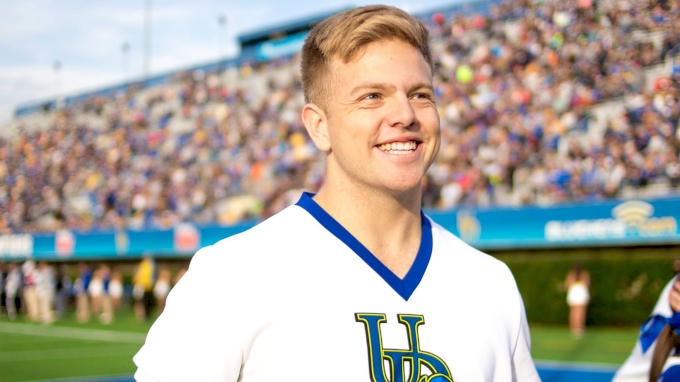 What life lessons do you think you've learned from cheer?
While the life lessons are countless, there are a couple of things that really stick out to me.
The first lesson is about working hard and checking the excuses you make for yourself. One of the unique things I found about cheerleading is that as a male, I was able to start in college, and still go on to compete with the best of the best. Seeing that your ability has a direct correlation to the work that you put in has shown me that my only limit is my work ethic.
I always thought I was a tough, hard-working athlete, but having coaches like Gillian Guadagnino and the teammates that I had, I was able to completely redefine what my limits are.
One of the other great lessons that I learned is about being an outgoing personality. Great cheerleaders need to be much more than athletes, they need to have the full set of personality traits that make you an ambassador for your school, a spirit-raiser, an entertainer, and a crowd leader.
It does not matter how you're feeling that day, you need to be able to put a smile on your face and go have conversations with kids, fans, and donors. You represent way more than just yourself when you put the name of your University on your chest. The sense of responsibility that I felt when representing my University allowed me to grow so much as a professional and has helped me immensely in finding success in my career.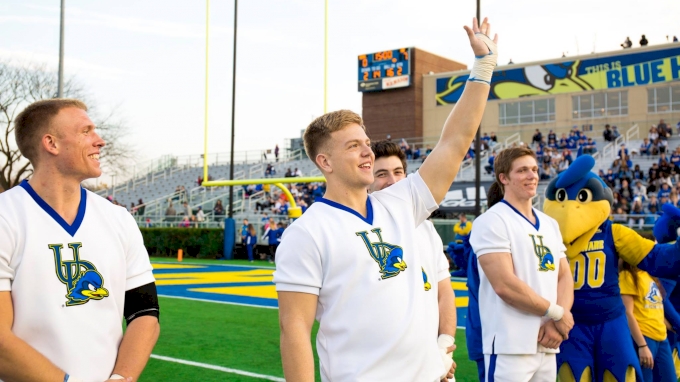 Why would you encourage someone to try out for cheer?
One of the number one regrets I hear from males when they start cheering is that they wish they would have started earlier. Getting new skills is addicting because you can visibly watch yourself grow in a way that no other sport or activity can match. Even if you later decide to move on to other sports, the strength and body awareness that you build when training for cheerleading is a huge advantage that you will be able to carry with you.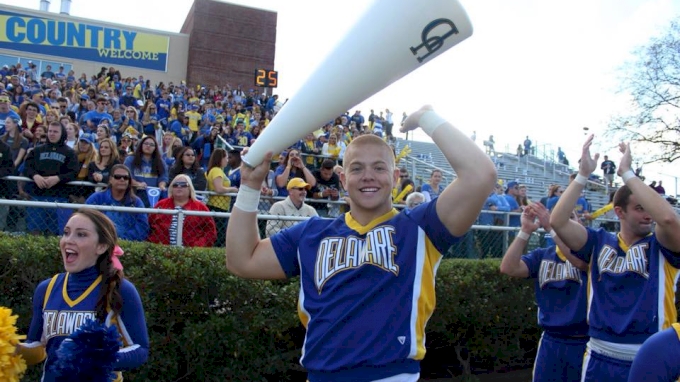 If you could give a young athlete one piece of advice, what would it be?
My one piece of advice to a young athlete is to fall in love with the process of making yourself better. I promise, there is absolutely no limit to your greatness if you want it.
Like Minnesota Head Football Coach P.J. Fleck says, redefine your best and you will be amazed at what you can accomplish.