Completed

·

Jan 12-14, 2018
Welcome to the 2018 UCA & UDA College Cheerleading and Dance Team National Championship event hub! Here you'll find the very best coverage of the competition including a live stream, the performance order, results, photos, articles, news, and more!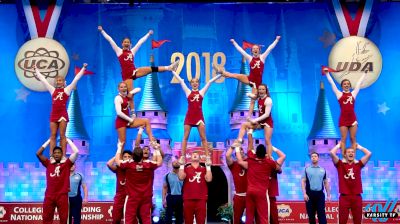 Alabama Strong From The Field To The Mat
Jan 26, 2018
The University of Alabama spirit squad is proud to represent the Crimson Tide in their community, on the sidelines and all the way to the competition mat in Orlando, FL.
Whether they are cheering their football team on to another national championship or competing for a title of their own, this team gives it their all in everything they do. Under the new leadership of Christa Sanford, you can expect big things from the future of Alabama Cheer.
Varsity TV caught up with Sanford at the 2018 UCA College National Championship to hear more about her first year with the Division lA team.