Welcome to the 2020 Varsity TV Level Legacy event hub! Varsity TV Level Legacy is a 4-week individual skill challenge for cheerleaders to see who is the best in the world in their level.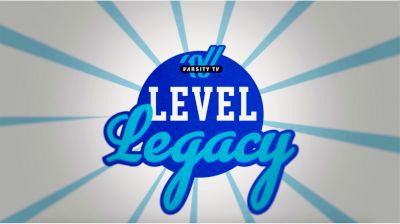 Get Hype For Varsity TV Level Legacy!
Jul 24, 2020
It's almost time to kick off the 2020 Varsity TV Level Legacy Challenge! Tumblers will be putting the best of their passes on the mat for a chance to be crowned champion.
New This Year:
School and Recreation athletes can now join in on all the fun! School and Rec cheerleaders will be able to show off their skills in Level 1-5.
Also, new this season, athletes can upload their challenge videos directly to Varsity TV!
How It Works
Starting August 3rd, each week, for four weeks, we will upload new level-specific standing and running tumbling challenges on Monday and the athletes will have until that Sunday to upload and submit their best video to Varsity TV.
A talented panel of judges will evaluate each submission and score appropriately from this score sheet. Once judged, athletes will be ranked in order by level right here on Varsity TV.
Rankings will be updated each week and the overall champions for each level will be revealed at the end of the challenge.
Joining The Challenge Is Easy!
Join Varsity TV now to join the journey to securing the title of Varsity TV Level Legacy.
*Must be a current Varsity TV subscriber to participate in the Level Legacy Skills Challenge, please do not include music in your video submissions. More details coming soon!