It's College Week on Varsity TV! We are taking you behind the scenes and on to the sidelines with some of your favorite college spirit programs. Enjoy the very best Varsity TV content from original documentaries, competition routines, replays, exclusive interviews, and more!
It's College Week On Varsity TV!
---
It's going to be a spirited week full content from your favorite college spirit programs.
Take a look back at some of our favorite memories from the college championships, catch up on all your favorite films, and hit the sidelines with some of the nation's most spirited programs to find out what it's like to cheer on the sidelines of a real college game day.
[WATCH] It's Game Day: Texas Tech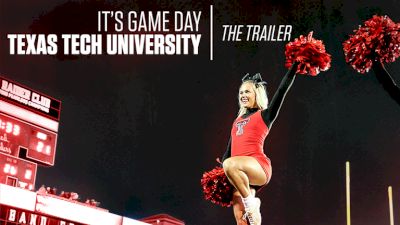 Upcoming Events On Varsity TV Live
---
Spirit Spotlight
Wednesday, May 20 at 12 PM CT
Watch more than 40 episodes of original documentaries highlighting your favorite school spirit programs! From West Coast Spirit following Costa Mesa High School to Daytona Dreams with California Baptist University, fans are in for a treat as we go behind the scenes with some of the most spirited programs in the nation.
View Full Coverage | Watch LIVE
Going For Gold
Friday, May 22 at 12 PM CT
Watch all four seasons of Going For Gold following the US National Teams from the selection process, throughout training, and on their journey to compete for championship titles at the ICU World Cheerleading Championships.
View Full Coverage | Watch LIVE
All Or Nothing: DeSoto Central
Sunday, May 24 at 5 PM CT
Could this be it for Desoto Central? Will the three-peat streak be broken or will they rise to the occasion and make history in the Super Varsity Game Day division? Tune in to the Varsity TV documentary All Or Nothing: Desoto Central to find out.
View Full Coverage | Watch LIVE
Did you miss out on one of our must-see Varsity TV Live events? Don't stress!
You can watch every Varsity TV Live stream on-demand by visiting the Varsity TV Live Event Hub!
---
Join The Fun: Virtual Spring Training LIVE!
Spirit isn't limited to a specific place, and neither should your training! For the first time ever, Varsity Spirit has created virtual, at-home training classes to keep your skills and spirits up from anywhere, anytime. Feel the energy of our LIVE, instructor-led classes and transform your living room into a virtual game day atmosphere!
Virtual Spring Training sessions will be offered at a 1:25 ratio, so you are able to receive personal feedback while interacting with other cheerleaders and dancers from across the country – just like you would at summer camp!
---
Stuck inside and looking for a way to stay active and healthy? Then look no further because the Varsity Fit Training Guide is here to make fitness fun and easy!
With Varsity Fit, you'll have access to a fitness guide created specifically for cheerleaders and dancers that you can do in the comfort of your own home! Keep your body performance-ready and work up a sweat with 16 custom-made workouts that will help you build muscle, increase flexibility, and master balance.
By the end of the eight weeks, your fitness progress will be undeniable, but don't take our word for it! Make sure to do the Varsity Fit Test before and after to see how much you have improved.
Varsity Fit Training Guide Hub | Take The Varsity Fit Test | View Varsity Fit Workout Guide