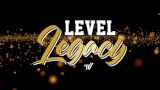 2018 Varsity All Star Level Legacy
Sep 3 - Oct 5
AUSTIN, Texas
*Please do not include music in your video submissions, as they will not be scored.
Joining The Challenge Is Easy!
Join Varsity TV now to join the journey to securing the title of Varsity All Star LEVEL LEGACY. There's no Level Legacy pre-registration required.
*Must be a current Varsity TV subscriber to participate in the Level Legacy Skills Challenge.