Let your school spirit shine and give a shout out to the teams you love! YOU decide the high school and college spirit squads featured this season on Varsity TV.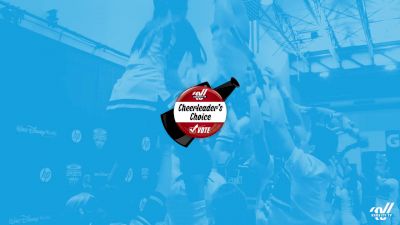 Congratulations, California Baptist University
Sep 18, 2017
Who's ready to hear who is the fifth Cheerleaders Choice: School Spirit Spotlight Champion? Congratulations California Baptist University!

Spirit Program: California Baptist University

Location: Riverside, California

Mascot: Lancers

School Colors: Blue and gold.
California Baptist had a record year in 2017 as they took home their 6th USA Collegiate Championship title AND their 5th NCA College National Championship. The talented ladies of CBU are proudly coached by Tami Fleming, Brandon Seagondollar and Olivia Miller.
These student-athletes are champions on and off the mat. The CBU cheerleading squad takes their competitive drive to the classroom with a team GPA of 3.2.
We can't wait to see what this championship team accomplishes in the 2017-18 season.
Congrats California Baptist University Spirit Program on being named one of the Cheerleader's Choice: School Spirit Spotlight Champions! We can't wait to see you featured on Varsity TV this season!